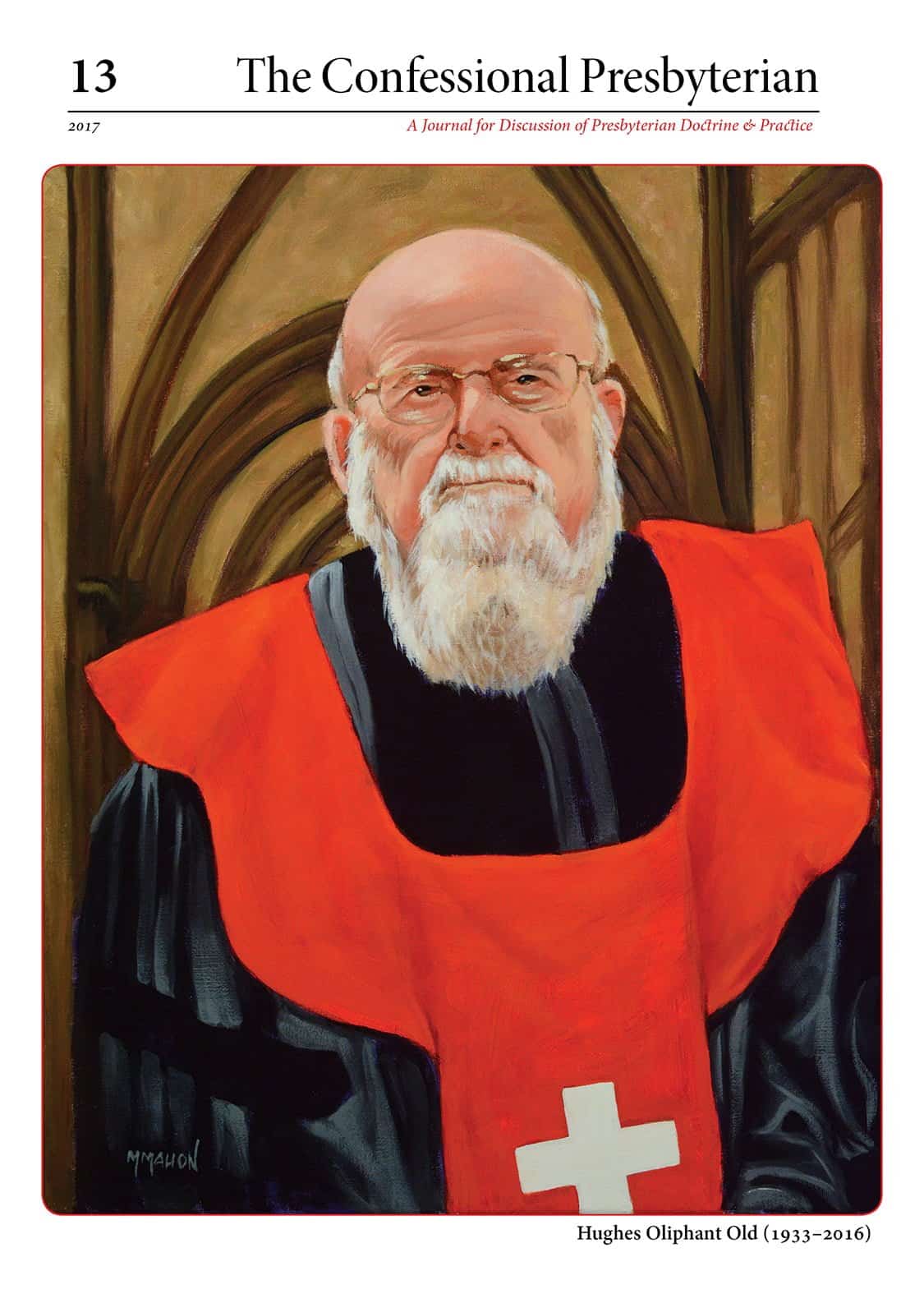 Welcome to the website for The Confessional Presbyterian, a journal for discussion of Presbyterian doctrine & practice. See our About page for background on the purpose and scope of the journal. Our 13th issue (2017) is in print and available. We are now accepting submissions for v 14 for 2018. Please see our submission page or contact the editor if you have an idea to run by the editors. To purchase issues and subscribe for the forthcoming current issue (due out likely in late August or early September) see the online Store.  To view table of contents for past issues see our articles page or the author index for a listing of published material by author.
The Confessional Presbyterian Volume 13 (2017)  256pp.
Cover: Hughes Oliphant Old (1933–2016)
Table of Content
2. Editorial
When Martin Luther nailed his 95 theses to the door of the Castle Church in Wittenburg 500 years ago, his concerns were clearly soteriological. He brought into question the Pope's right to remit sins and the ability of indulgences to spring sinful souls from the coffers of purgatory. But his soteriological concerns did not impact just one or a few loci of Christian theology. But they would impact ultimately—and most importantly—liturgical concerns as well. In fact, it is quite impossible to separate Christian doctrine from Christian worship and still be a responsible theologian.
Hughes Oliphint Old, who has just last year passed into his eternal rest, can be credited with having brought renewed awareness of the reform of worship during the time of the Reformation. It may be said that the Reformed branch of the Reformation is responsible for having consistently applied the principles of the Reformation to the area of Christian worship. Dr. Old's scholarship has shown how the Reformers explored the depths of the ancient church for insight into the nature of New Testament worship. We have a whole new generation of Reformed liturgists now, thanks to the labors of Dr. Old, who are seeking to continue the process of uncovering treasures from the past for rendering the church's worship today to be more in keeping with the touchstone of Holy Scripture.
For this reason we feature Dr. Old on this year's cover. We kick off the issue with an original piece by Old on prayer in Strasbourg in the early 16th century, followed by a brief biography of his life and work by his widow, Mary McCraw Old. Dr. Old's student and friend, Glen Clary, offers a contribution which advances Old's scholarly legacy on how the Reformed looked to Patristic worship for guiding it in biblical worship. Terry Johnson continues the theme of worship in articulating what a true worship leader is. This part of the articles section is then followed up with a very practical and insightful section containing studies on various 16th century Reformed reformers: Calvin, Bucer, and Oecolampadius. In a day with much confusion about the doctrine of the immanent Trinity, Jim Cassidy provides a piece on the significance of Augustine's doctrine of the Trinity for today. That is followed by a study on social reform in the RPCNA by Joel Hart. The theme of Calvin's contribution to the Reformation of worship resumes with contributions by Everett Henes and Timothy Gwin. Our articles section is finally closed out with two essays on Reformed piety, including one by Richard Barcellos on the Sabbath and the other by Nick Willborn on family worship.
As for the rest of this issue, Reviews & Responses presents a number of reviews in a nearly thirty pages section (see titles below), which we trust will be of interest. The issue closes out with our regular recurring departments. In Psallo, Todd Ruddell presents a rendering of Psalm 87. In Antiquary Chris Coldwell and Matthew Vogan present background and details on the exciting discovery of manuscripts spread across several institutions, containing 228 sermons on the Book of Song of Solomon. These sermons were preached in 1651–1654 by James Durham (1623–1658) at the beginning of his ministry in the Glasgow cathedral Kirk. For In Translatiōne, we continue our custom of presenting short to medium length first time translations into English of material of interest to Confessional Presbyterians. This year's entry is a translation by David C. Noe of two important letters which John Calvin wrote to the ministers of the Reformed church in Montbéliard. The church there was facing the forced imposition of Lutheran worship practices by the civil authorities, including the reinstitution of a number of the old holy days of the church calendar which that church had rejected at its founding. A helpful background introduction covering Calvin's view of such observances is provided by Chris Coldwell.
Worship is the most important thing a Christian does. If the Reformation was only about reforming our doctrine of justification—as absolutely important as that is—then the Reformation would only have been a whiff rather than a raging firestorm that spread through Europe and beyond, changing the world forever. But Dr. Old has taught us that real and abiding significance of the Reformation takes place in our worship services. In a day and age of fog machines, praise bands and offertory ballet performances, that is no insignificant thing. For these reasons the editors of The Confessional Presbyterian journal are happy to present this issue in honor of 500 years of being Reformed according to the Scriptures.
The Editors■
Articles
3. Daily Prayer in the Reformed Church Of Strasbourg, 1525–1530. By Hughes Oliphant Old
12. Hughes Oliphant Old. By Mary McCaw Old
16. According to the Custom of the Ancient Church: Recovering the Patristic Roots of Reformed Worship. By Glen J. Clary
31. Those Who Lead Worship. By Terry L. Johnson
45. Calvin the Pastor. By Ian Hamilton
50. John Calvin's Pastoral Theology: An Explanatory Outline. By Marcus J. Serven
67. John Calvin on the Fall and the Imago Dei. By Barry Waugh
81. Martin Bucer's Eucharistic Development. By Brian H. Nicholson
89. Johannes Oecolampadius: Exposition of Isaiah 53. By Diane Poythress
97. Secundum Substantiam and Relatiuum in Augustine's De Trinitate: Getting the Trinity Right Then and Now. By James J. Cassidy
109. The Doctrine and Practice of Social Reform in the Reformed Presbyterian Church of North America: 1930–1945. By Joel Hart
121. Less Outward Glory: An Examination of Calvin's Reformation of Worship. By Everett A. Henes
129. Let the Families of the Lord Give Praise! Calvin's Piety of the Psalms as Prayer-Praise Generational Discipleship. By Timothy J. Gwin
145. "A Sabbath rest for the people of God": An Exegetical Study of Hebrews 4:9–10. By Richard C. Barcellos
160. Family Religion: Adoption in the Reformation Tradition: An Essential Element of the Gospel Message. By C. N. Willborn
167 Reviews & Responses: Ottomar Cypris, Martin Bucer's Ground and Reason: A Commentary and Translation (Walter L. Taylor) 167 ■ Matthew Barrett (ed.), Reformation Theology: A Systematic Summary (Harrison Perkins) 171 ■ Geerhardus Vos, Reformed Dogmatics, 5 volumes (Lane Keister) 174 ■ Frank J. Smith (ed.), Religion and Politics in America: An Encyclopedia of Church and State in American Life (Benjamin P. Glaser) 179 ■ Jonathan Sarfati, The Genesis Account: A Theological, Historical, and Scientific Commentary on Genesis 1–11 (Wes Bredenhof) 181 ■ John Witte, Jr. and Robert M. Kingdon, Sex, Marriage, and Family in John Calvin's Geneva: Volume 1, Courtship, Engagement, and Marriage (Frank J. Smith) 183 ■ Doug J. Douma, The Presbyterian Philosopher: The Authorized Biography of Gordon H. Clark (Wayne Sparkman) ■ Chad B. Van Dixhoorn, God's Ambassadors: The Westminster Assembly and the Reformation of the English Pulpit, 1643–1653 (Jeffrey C. Waddington) ■
Psallo: Psalm 87:1–7
In Translatiōne: John Calvin's Letters to the Ministers of Montbéliard (1543–1544): The Genevan Reformer's Advice and Views of the Liturgical Calendar
Antiquary: The James Durham MS III: James Durham's 228 Sermons on Song of Solomon 2–8