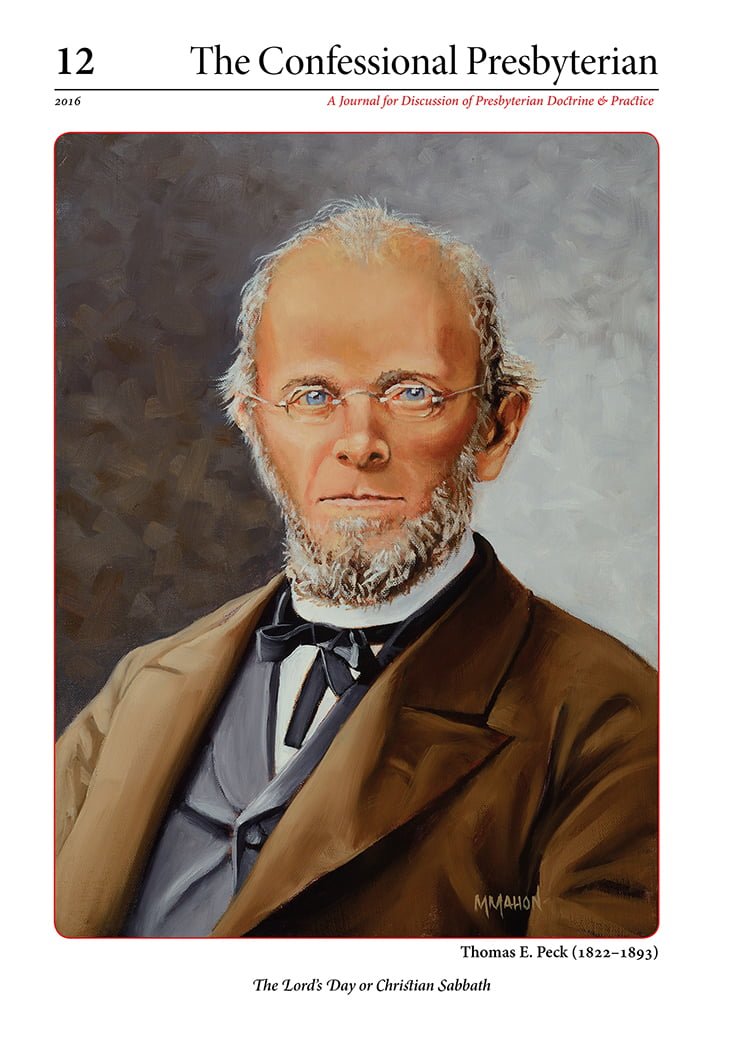 Welcome to the website for The Confessional Presbyterian, a journal for discussion of Presbyterian doctrine & practice. See our About page for background on the purpose and scope of the journal. Our 12th issue (2016) should go to production in April for a June release. The issue is our first with the full article section on one theme, which is "The Lord's Day or Christian Sabbath". The provisional contents are listed below and the finalized contents should be updated by April 15 (some articles and reviews are still pending). To subscribe or purchase back issues see the online Store. To view table of contents for past issues see our articles page or the author index for a listing of published material by author.
The Confessional Presbyterian Volume 12 (2016) approx. est. 296pp.
Cover: Thomas E. Peck (1822–1893)
Provisional contents (should be finalized by April 15).
Pastoral Letter on the Observance of the Sabbath
By Thomas E. Peck
The Lord's Day, The Christian Sabbath
By T. V. Moore
Pastoral Letter on the Observance of the Sabbath
By Benjamin Morgan Palmer
Southern Presbyterian Sabbatarianism
By James Henley Thornwell, et al.
Dropping the Subject, Again? The Decline of Sabbatarianism in Old Southern Presbyterian Church and in the Presbyterian Church in America
By Chris Coldwell
The Doctrine of the Sabbath with a Particular look at its Application in the Associate Reformed Presbyterian Church
By Benjamin P. Glaser
Politics, International Relations, and the Sabbath: The 1915 International Lord's Day Congress
By Frank J. Smith
Leviticus 23 and the Old Testament Sabbath
By Benjamin Shaw
What Should a Typical Sabbath Look Like and Why?
By Ryan M. McGraw
The Christian Sabbath: Destiny not Drudgery
By Roy Mohon
John Calvin, the Nascent Sabbatarian
By Stewart E. Lauer
The Sabbath Day and Recreations on the Sabbath
By Lane Keister
Regulae de Observatione Sabbathi: The Synod of Dort's (1618–19) Deliverance on the Sabbath
By Daniel R. Hyde
Is the Westminster Confession's Doctrine of the Sabbath a Judaizing Doctrine?
By Geoffrey L. Willour
The Fourth Commandment: Annulled or Sustained?
By Carl E. Erickson
Additional articles: TBA
Reviews: TBA
Psallo: Psalm 5:1–12
In Translatiōne: John Brown of Wamphray: Recreations and the Sabbath
Antiquary: A Transcription of James Durham's Sermon on Ephesians 4:11-12, preached before the Synod of Glasgow, October 5, 1652.