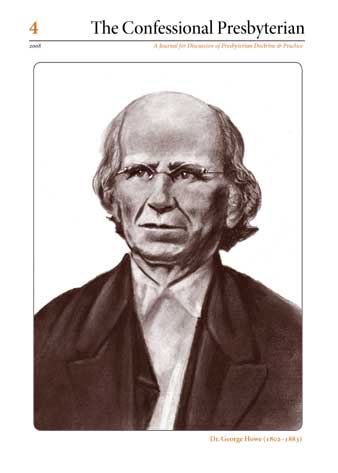 The Confessional Presbyterian 4 (2008)
$25.00 USA. $35.00 International. Postage Paid.
Articles
3. American Presbyterianism, Geology, and the Days of Creation By Frank J. Smith, Ph.D., D.D.
17. Olevianus and the Old Perspective on Paul: A Preliminary Report
By R. Scott Clark, D.Phil.
29. For Freedom Christ Has Set Us Free: John Owen's A Discourse Concerning Liturgies, and Their Imposition
By Daniel R. Hyde
43. The Ministerial Shortage Problem in Presbyterian History & George Howe's Appeal for More Ministers
By Barry Waugh, Ph.D.
52. An Appeal to the Young Men of the Presbyterian Church by George Howe (1802–1883)
Transcribed by Barry Waugh, Ph.D.
72. According to Augustine
By W. Gary Crampton, Th.D.
109. Martyrdom, Mission and the Belgic Confession
By Wes Bredenhof
122. John Calvin on Human Government and the State
By David W. Hall, Ph.D.
136. The Centrality of the Holy Spirit in Reformed Theology: A Robust Pneumatology
By Shane Lems
142. Should Women Teach or Have Authority Over Men in the Church? An Exegesis of 1 Timothy 2:8–15
By Lane Keister
151. The Covenant Of Works Revived: John Owen on Republication in the Mosaic Covenant
By Michael Brown, M.Div.
162. Samuel Rutherford's Supralapsarianism Revealed: A Key to the Lapsarian Position of the Westminster Confession of Faith? By Guy M. Richard, Ph.D.
171. Eschatology and the Westminster Standards
By C. N. Willborn
183. Baptismal Regeneration and the Westminster Confession of Faith
By D. Patrick Ramsey
194. The Affirmation of the Imputation of the Active Obedience of Christ at the Westminster Assembly of Divines
By Alan Strange
Updating...